Welcome to the Pokémon Sage Wiki
Pokémon Sage is a collaborative fan-made Pokémon game, started on /vp/ in October 2012.
So far we have a whopping 79,522 total edits on this wiki!
Pokémon Sage is a fan-made game that takes place in the Urobos region, a far-flung land based on Latin America that's filled with mysteries to solve, friends to meet, and an array of characters and locales that draw from the rich history and culture of Latin America.
You can find over 200 brand new Pokémon all across Urobos, ready for you to catch, evolve, and train with on your journey to becoming the Urobos League Champion.
For more information, see the About page.
The latest release can be found by clicking here.
Read This Before Editing!
This wiki serves as a repository for the development of Pokémon Sage! Please read our rules before commenting or making edits.
Read the guidelines before uploading any files, such as sprites. Make sure not to replace existing files.
Information here may be updated for development beyond the latest release, so it may not be accurate!
Leave comments if something looks amiss.
This wiki's templates were adapted from Bulbapedia by Maruno for this wiki.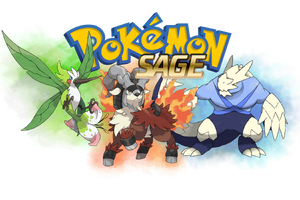 Spoiler alert! Some pages contain spoilers. You have been warned!
Interested in helping out? Play our latest Demo, then take our Feedback Survey!
Interested in talking about Sage with other fans? Join the Discord server!