Foster is the Gym Leader of Quaver Town's Gym, known officially as the Quaver Gym. He hands out the Snowball Badge to trainers who defeat him in battle. He specializes in training Ice-type Pokémon.
Biography
A jolly old man who has a gym full of children and teaches them about battling. He runs a daycare for preschool children in his gym and saves people in trouble around the icy roads of the mountain.
Pokémon
His signature Pokémon is Snome.
Gym battle
Reward:

1760

Held item:

Sitrus Berry

Snome

♂

Lv.16
Rematch
Reward:

???
Music
Demo 3
https://soundcloud.com/dewdneym/pokemon-vp-foster-froster
Trivia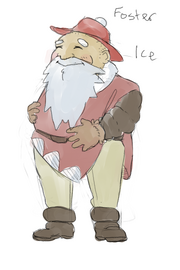 Foster's name is a reference to fostering, or providing parental care to children.
Foster's design draws inspiration from the traditional image of Santa Claus as a jolly fat man clad in red and white.
Foster's concept and design have not changed since they were first proposed.
Foster is the origin of the term "Foster Confirmed" used by the developers. The term refers to when a design is so overwhelmingly popular that it is assumed that it will appear in the final game, despite the fact that it has not been officially confirmed yet.