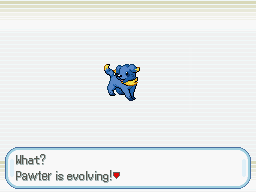 Evolution is a process in which a Pokémon ascends to a more powerful and often larger form. Each evolution has one or more conditions which must be met in order for it to occur. There are many different methods of evolution, such as leveling up, using an Evolution stone on the Pokémon, or leveling up with another condition such as knowing a certain move.
Pokémon Sage introduces some new evolution methods.
29 Pokémon families do not evolve, 57 families have 2 stages, 24 families have 3 stages, and 4 families with multiple evolution paths.
List of Pokémon by evolution family
Peppit family



Peppit

Level 28
→



Hoppanero


Fire Stone or Leaf Stone
→



Scovalope
Flowger family



Flowger


Leaf Stone or Water Stone
→



Bullotus
Phlask family



Phlask


Level 22 holding Burn Heal/Ice Heal
→



Noxial


Level 36 holding Ice Heal/Burn Heal
→



Fumighast
Trivia