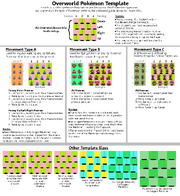 This page is for the organization of Pokémon overworld sprites. They are for use in a possible "walking with Pokémon" mechanic à la HeartGold/SoulSilver. The Trainer Classes page is used for overworld human characters.
You are welcome to add to the list, but keep in mind that overworlds are a low priority and your efforts are better applied elsewhere.
Note: For quick reference, wild Pokemon appearing in the next demo that are missing OW sprites will be marked with a *. Please remove the mark when you add a sprite to it.
Pokémon overworlds
When spriting Pokémon overworlds, please ensure that they do not share the same color palette as their battle sprite counterparts. Overworlds and battle sprites use different color palettes (e.g. the yellow used for Pikachu's overworld sprite is a different yellow than the one used for its battle sprite). It is best to take colors from the official HG/SS Pokémon overworld sprites.
How to convert into the usable image
Many of the overworlds need to be converted into the proper format - either two columns of 4 or four columns of 4, each row facing the same direction. Generally, the two columns of 4 format is favored to allow the page to load faster.
To do this, use the table on the right to align the sprites with the shadows. You only need to do the left two columns. Once the overworld sprites are aligned, copy the two left columns with the sprites on them into a new image. Color the central lines to be either green or pink, and recolor the green or pink areas so the background is one static color.
Finally, reupload the new 66x128 image.
Please make sure you upload your sprite(s) as a .png!
See also the Pokémon overworlds category.