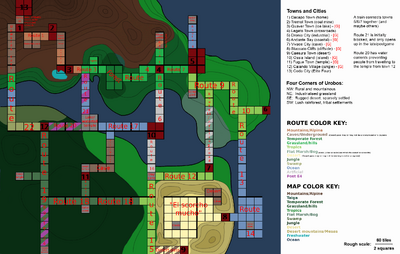 This page lists the Pokémon that can be obtained per location.
All of the information listed here is subject to change in future versions of the game.
Note: The encounter rate of shiny Pokémon is currently the normal 1/8192. This may be altered in the future.
Current Demo (2.0)
Pokémon, levels, and percentages are subject to change.
Pokémon
Location
Levels
Rate
Fishing

Fishing




Old Rod

5-10
100%

Fishing




Good Rod

15-25
60%

Fishing




Good Rod

15-25
40%
Surfing
????
45%
????
35%
????
20%
Gift Pokémon
5
One
5
One
5
One
Pokémon
Location
Levels
Rate

| | |
| --- | --- |
| | Grass |

2-4
20%
35%
5%

| | |
| --- | --- |
| | Grass |

2-5
30%

| | |
| --- | --- |
| | Grass |

2-4
15%
5%
35%

| | |
| --- | --- |
| | Grass |

2-4
15%
10%
20%

| | |
| --- | --- |
| | Grass |

2-5
20%
20%
10%
Fishing

Fishing




Old Rod

5-10
100%

Fishing




Good Rod

15-25
60%

Fishing




Good Rod

15-25
40%
Surfing
????
45%
????
35%
????
20%
Pokémon
Location
Levels
Rate

| | |
| --- | --- |
| | Cave |

3-5
45%

| | |
| --- | --- |
| | Cave |

4-5
35%

| | |
| --- | --- |
| | Cave |

4-6
20%
Fishing

Fishing




Old Rod

5-10
100%

Fishing




Good Rod

15-25
60%

Fishing




Good Rod

15-25
40%
Surfing
????
100%
First and Second Rooms:
Pokémon
Location
Levels
Rate

| | |
| --- | --- |
| | Cave |

4-6
36%

| | |
| --- | --- |
| | Cave |

3-5
36%

| | |
| --- | --- |
| | Cave |

3-6
28%
Fishing

Fishing




Old Rod

5-10
100%

Fishing




Good Rod

15-25
40%

Fishing




Good Rod

15-25
60%
Surfing
????
100%
Third Room:
Pokémon
Location
Levels
Rate

| | |
| --- | --- |
| | Cave |

4-6
40%

| | |
| --- | --- |
| | Cave |

3-5
40%

| | |
| --- | --- |
| | Cave |

3-6
20%
First Three Rooms:
Pokémon
Location
Levels
Rate

| | |
| --- | --- |
| | Cave |

4-7
35%

| | |
| --- | --- |
| | Cave |

5-7
25%

| | |
| --- | --- |
| | Cave |

6-7
25%

| | |
| --- | --- |
| | Cave |

5-6
15%
Next Three Rooms:
Pokémon
Location
Levels
Rate

| | |
| --- | --- |
| | Cave |

5-8
30%

| | |
| --- | --- |
| | Cave |

6-7
24%

| | |
| --- | --- |
| | Cave |

6-8
24%

| | |
| --- | --- |
| | Cave |

5-7
20%

| | |
| --- | --- |
| | Cave |

7
2%
Mushroom Cavern:
Pokémon
Location
Levels
Rate

| | |
| --- | --- |
| | Cave |

6-10
34%

| | |
| --- | --- |
| | Cave |

7-10
34%

| | |
| --- | --- |
| | Cave |

8-10
32%
Pokémon
Location
Levels
Rate

| | |
| --- | --- |
| | Grass |

6-8
25%
35%
10%

| | |
| --- | --- |
| | Grass |

7-9
20%

| | |
| --- | --- |
| | Grass |

6-8
25%
20%
40%

| | |
| --- | --- |
| | Grass |

7-9
20%
20%
10%

| | |
| --- | --- |
| | Grass |

6-8
10%
5%
20%
Pokémon
Location
Levels
Rate
Fishing

Fishing




Old Rod

5-10
100%

Fishing




Good Rod

15-25
60%

Fishing




Good Rod

15-25
40%
Pokémon
Location
Levels
Rate
Snow Area

| | |
| --- | --- |
| | Grass |

8-10
25%
35%
20%

| | |
| --- | --- |
| | Grass |

8-10
25%
10%
35%

| | |
| --- | --- |
| | Grass |

8-10
25%
25%
20%

| | |
| --- | --- |
| | Grass |

9
5%

| | |
| --- | --- |
| | Grass |

9-10
15%

| | |
| --- | --- |
| | Grass |

8-10
5%
10%
5%
Grass Area

| | |
| --- | --- |
| | Grass |

9-11
25%
35%
20%

| | |
| --- | --- |
| | Grass |

9-11
30%
15%
35%

| | |
| --- | --- |
| | Grass |

9-11
25%

| | |
| --- | --- |
| | Grass |

9
5%

| | |
| --- | --- |
| | Grass |

9-11
15%
20%
15%
Fishing

Fishing




Old Rod

5-10
70%

Fishing




Old Rod

5-10
30%

Fishing




Good Rod

15-25
60%

Fishing




Good Rod

15-25
20%

Fishing




Good Rod

15-25
20%
Surfing
????
35%
????
15%
????
30%
????
20%
Pokémon
Location
Levels
Rate

| | |
| --- | --- |
| | Grass |

9-11
75%
75%
65%

| | |
| --- | --- |
| | Grass |

9
20%
20%
25%

| | |
| --- | --- |
| | Grass |

10
5%
5%
10%
Fishing

Fishing




Old Rod

5-10
100%

Fishing




Good Rod

15-25
100%
Surfing
????
100%
Pokémon
Location
Levels
Rate

| | |
| --- | --- |
| | Grass |

10-12
30%

| | |
| --- | --- |
| | Grass |

11-12
5%
5%
10% #this shouldn't be here

| | |
| --- | --- |
| | Grass |

12
5%

| | |
| --- | --- |
| | Grass |

10-12
40%
40%
15%

| | |
| --- | --- |
| | Grass |

10-11
15%
15%
35%

| | |
| --- | --- |
| | Grass |

13
4%

| | |
| --- | --- |
| | Grass |

13
1%
Fishing

Fishing




Old Rod

5-10
70%

Fishing




Old Rod

5-10
30%

Fishing




Good Rod

15-25
60%

Fishing




Good Rod

15-25
20%

Fishing




Good Rod

15-25
20%
Surfing
????
40%
????
30%
????
20%
????
10%
Pokémon
Location
Levels
Rate
West

| | |
| --- | --- |
| | Grass |

12-13
5%
5%
5%

| | |
| --- | --- |
| | Grass |

12-13
15%
15%
20%

| | |
| --- | --- |
| | Grass |

12-13
15%
15%
20%

| | |
| --- | --- |
| | Grass |

12-13
15%
10%
20%

| | |
| --- | --- |
| | Grass |

12-13
20%
25%
5%

| | |
| --- | --- |
| | Grass |

12-13
30%
30%
30%
East

| | |
| --- | --- |
| | Grass |

12-13
5%
5%
5%

| | |
| --- | --- |
| | Grass |

12-13
10%
10%
30%

| | |
| --- | --- |
| | Grass |

12-13
10%
10%
30%

| | |
| --- | --- |
| | Grass |

12-13
15%
10%
20%

| | |
| --- | --- |
| | Grass |

12-13
35%
40%
20%

| | |
| --- | --- |
| | Grass |

12-13
25%
25%
25%
Fishing

Fishing




Old Rod

5-10
70%

Fishing




Old Rod

5-10
30%

Fishing




Good Rod

15-25
60%

Fishing




Good Rod

15-25
20%

Fishing




Good Rod

15-25
20%
Surfing
????
45%
????
25%
????
10%
????
20%
Pokémon
Location
Levels
Rate

| | |
| --- | --- |
| | Grass |

15
20%
25%
15%

| | |
| --- | --- |
| | Grass |

13-14
25%
25%
25%

| | |
| --- | --- |
| | Grass |

13-15
15%
10%
25%

| | |
| --- | --- |
| | Grass |

13-14
25%
30%
15%

| | |
| --- | --- |
| | Grass |

14-15
15%
10%
20%
Fishing

Fishing




Old Rod

5-10
70%

Fishing




Old Rod

5-10
30%

Fishing




Good Rod

15-25
60%

Fishing




Good Rod

15-25
20%

Fishing




Good Rod

15-25
20%
Surfing
????
40%
????
25%
????
30%
Rock Smash
13-15
70%
13-15
30%
Pokémon
Location
Levels
Rate

| | |
| --- | --- |
| | Grass |

15-16
20%
25%
10%

| | |
| --- | --- |
| | Grass |

14-16
30%
30%
30%

| | |
| --- | --- |
| | Grass |

14-16
10%
5%
25%

| | |
| --- | --- |
| | Grass |

14-16
25%
30%
15%

| | |
| --- | --- |
| | Grass |

14-16
15%
10%
20%
Fishing

Fishing




Old Rod

C
First and Second Rooms, Observatory Entrance:
Pokémon
Location
Levels
Rate

| | |
| --- | --- |
| | Cave |

14-16
40%

| | |
| --- | --- |
| | Cave |

14-16
35%

| | |
| --- | --- |
| | Cave |

14-16
25%
Rock Smash
14-16
60%
14-16
30%
14-16
10%
Pokémon
Location
Levels
Rate

| | |
| --- | --- |
| | Grass |

15-17
20%
15%
35%

| | |
| --- | --- |
| | Grass |

15-17
25%
25%
15%

| | |
| --- | --- |
| | Grass |

15-17
25%
30%
20%

| | |
| --- | --- |
| | Grass |

15-17
20%
20%
20%

| | |
| --- | --- |
| | Grass |

15-17
10%
10%
10%

| | |
| --- | --- |
| | Only one |

???
S

| | |
| --- | --- |
| | Only one |

???
S
Pokémon
Location
Levels
Rate

| | |
| --- | --- |
| | Only one |

Obtained as an Egg from Sequoia
S
Pokémon
Location
Levels
Rate

| | |
| --- | --- |
| | Grass |

17-19
30%
35%
15%

| | |
| --- | --- |
| | Grass |

17-19
15%

| | |
| --- | --- |
| | Grass |

17-19
20%

| | |
| --- | --- |
| | Grass |

17-19
20%
15%
30%

| | |
| --- | --- |
| | Grass |

17-19
15%
15%
20%
Pokémon
Location
Levels
Rate

| | |
| --- | --- |
| | Only one |

19
S

| | |
| --- | --- |
| | Only one |

19
S
Pokémon
Location
Levels
Rate

| | |
| --- | --- |
| | Grass |

19
5%
10%
0%

| | |
| --- | --- |
| | Grass |

19-22
25%
20%
30%

| | |
| --- | --- |
| | Grass |

19-20
25%

| | |
| --- | --- |
| | Grass |

19-22
20%
15%
25%

| | |
| --- | --- |
| | Grass |

19-22
25%
30%
20%
Rock Smash
13-15
70%
13-15
30%
Pokémon
Location
Levels
Rate

Fishing




Old Rod

5-10
70%

Fishing




Old Rod

5-10
30%

Fishing




Good Rod

15-25
60%

Fishing




Good Rod

15-25
20%

Fishing




Good Rod

15-25
20%
Surfing
????
35%
????
30%
????
25%
????
10%
Pokémon
Location
Levels
Rate

| | |
| --- | --- |
| | Grass |

18-21
25%
30%
10%

| | |
| --- | --- |
| | Grass |

18-21
40%
35%
45%

| | |
| --- | --- |
| | Grass |

18-21
10%

| | |
| --- | --- |
| | Grass |

18-21
10%
10%
15%

| | |
| --- | --- |
| | Grass |

18-21
15%
15%
20%
Future Demos
Pokémon
Location
Levels
Rate

Fishing




Old Rod

5-10
70%

Fishing




Old Rod

5-10
30%

Fishing




Good Rod

15-25
60%

Fishing




Good Rod

15-25
20%

Fishing




Good Rod

15-25
20%
Surfing
????
30%
????
30%
????
40%
Pokémon
Location
Levels
Rate

Fishing




Old Rod

5-10
70%

Fishing




Old Rod

5-10
30%

Fishing




Good Rod

15-25
60%

Fishing




Good Rod

15-25
20%

Fishing




Good Rod

15-25
20%
Surfing
????
40%
????
30%
????
20%
????
10%
Pokémon
Location
Levels
Rate

Fishing




Old Rod

5-10
70%

Fishing




Old Rod

5-10
30%

Fishing




Good Rod

15-25
60%

Fishing




Good Rod

15-25
20%

Fishing




Good Rod

15-25
20%
Surfing
????
40%
????
30%
????
20%
????
10%