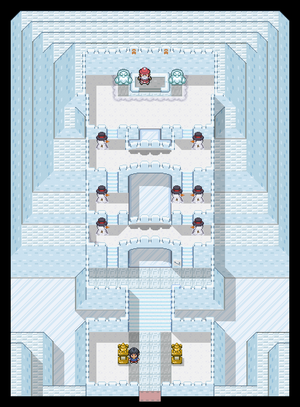 The Quaver Gym is the official Gym of Quaver Town. It is based on Ice-type Pokémon. The Gym Leader is Foster. Trainers that defeat him receive the Snowball Badge.
Appearance
Quaver Gym doubles somewhat as a tutorial area. The antechamber of the gym houses Foster's Center for Children, and contains blackboards showing status effects and type advantages.
The trainers, children taught by Foster himself, hide within snowmen. If you try to pass a snowman with a trainer, they will pop out and initiate a battle.
Music
Demo 3
https://soundcloud.com/frostfuzz/pkicegymbw
Trainers
Trainer
Pokémon

Youngster Jack
Reward: 160

Youngster Kai
Reward: 176

Youngster Nick
Reward: 160

Youngster Edward
Reward: 176

 
Reward:

1760

Held item:

Sitrus Berry

Snome

♂

Lv.16
Items
Trivia
The gold gym statues found in the Quaver Gym and every Gym afterward are of a pokemon named Goraurum. Goraurum was a proposed member of the Chimpoca line, a huge gorilla plated in gold. This mimics the gym statues in some Pokémon games depicting an early beta version of Rhydon, one of the first Pokémon to be designed.